GeoGrow have achieved top industry accreditations CHAS Elite certification and Constructionline Gold membership.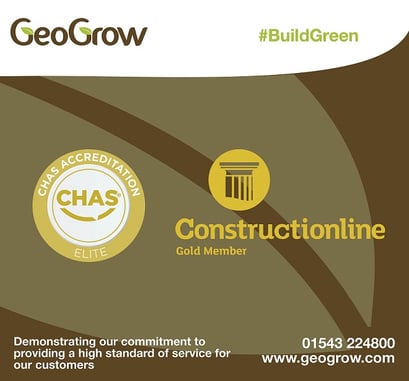 CHAS and Constructionline are two of the highest regarded safety schemes in the industry and validates a company's approach to key concerns of buyers, assessing credentials for environmental management, quality management, equal opportunities, modern slavery act compliance and anti-bribery and corruption policies. Alongside the enhanced prequalification, the accreditations also give clients peace of mind that our Health and Safety processes comply with current best practices and legislation.
Steph Wilkinson, Commercial Director of GeoGrow, said that: "We are extremely proud to have achieved such high standard industry accreditations. The CHAS Elite certification and Constructionline Gold membership demonstrate our ongoing commitment to providing a high standard of service for our customers. We are committed to improving and investing in our resources, workforce and processes, ensuring we continue to offer our customers the best possible service."
GeoGrow are a specialist construction company specialising in vegetated retaining wall systems. We manufacture, design, supply and install the Rootlok Vegetated Wall System, a green alternative for soft, engineered retaining walls and erosion control. Alongside green retaining wall construction, we provide a specialist hydroseeding service nationwide, providing vegetation and erosion control solutions for any sized area, be it large or small.
Get in touch to find out more about our vegetated retaining wall system and how we can help create greener infrastructure that promotes biodiversity within your schemes.
Call 01543 224800 or email sales@geogrow.co.uk to find out more about our installation and vegetation services.